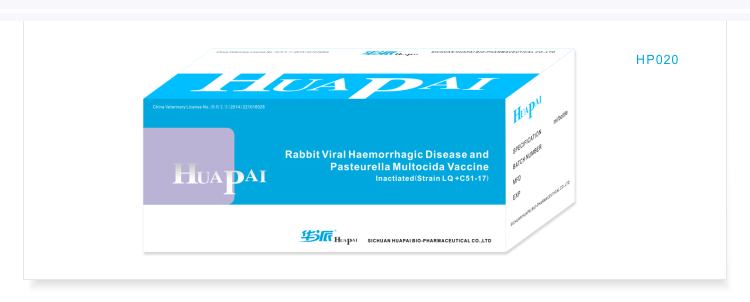 Product Name
Rabbit Haemorrhagic Disease and Pasteurella Multocida vaccine,Inactivated
Composition
Contains Haemorrhagic Disease Virus(LQ Strain) and Pasteurella Multocida virus(C51-17 strain),one dose vaccine have the Rabbit Haemorrhagic virus 0.05g, after activated, the agglutination titer of HA is no less than 1:128, and Pasteurella Multocida Type A live virus ≥5X109 CFU
Characteristics
After the standing,the top is the yellow brown transparent liquid ,and the bottom is the grey-brown precipitation , and after shaking, it present the grey-brown suspension liquid.
Indication:To prevent Rabbit Viral Haemorrhagic Disease and Pasteurella Multocida, the duration of the immunity can persist 6 months.
Administration and Dosage
Subcutaneous injection, 1.0 ml for a rabbit above 4 weeks.
Side Effects
Some rabbits may have a poor appetite
Precautions
1.Only indicate to the health rabbits,investigate the rabbit disease before vaccination, Do not apply to the sick and rabbits have been pregnant for 20 days
2.Sterilize the Injector and syringe needle before vaccination, one syringe needle only for one rabbit
3.Store in the prescriptive conditions, Do not freeze and forbid to use the frozen vaccine
4. Do the sterilization at the inject site before vaccination
5.Check carefully before use, do not use if the bottle broken, no label, vial label words not clear,vaccine expired, and not kept in he prescriptive conditions
6.Shake and increase the vaccine to the room temperature, shake it during usage, use the entire contents at first open, forbid to use the unused vaccine.
Specification 10ml/vial,20ml/vial,100ml/vial,150ml/vial
Storage and Validity
Store at 2-8℃,and the validity is 12 months
Manufactured by Huapai Bio-engineering Group Co., Ltd.