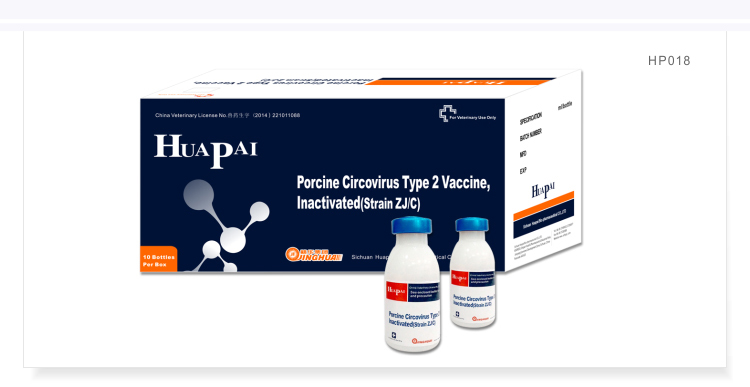 Product Name
Porcine Circovirus Type 2 Vaccine, Inactivated(Strain ZJ/C)
Composition
This vaccine is a oil-in-water emulsions of killed porcine circovirus type 2 grown on an established porcine cell line. 1ml of the vaccine contains at least 107.3TCID50 inactivated porcine circovirus type Ⅱ(Strain ZJ/C) .
Characteristics
The appearance of the vaccine shows light pink or light yellow emulsion.
Indications
Vaccination for prevention of porcine circovirus associated diseases caused by porcine circovirus type Ⅱ, the duration of the immunity in the piglets is 4 months.
Administration and Dosage
Shake well, and administer 2 ml intramuscularly in the neck to piglets of above 14 days of age.
Side effects None
Precautions
1. Vaccination of healthy pigs is recommended.
2.Shake well and keep the vaccine at room temperature for 1-2 hours before inoculation.
3.The vaccine should be used in 24 hours when first opened.
4.No Freezing the vaccine, and do not use the demulsificated vaccine.
5.Containers, articles, and all unused contents should be treated innocently through burning or boiling.
6.If anaphylaxis occur after use, initial antidote of epinephrine is recommended.
Specification
10ml/bottle, 20ml/bottle, 50ml/bottle, 100ml/bottle, 250ml/bottle.
Package
300 bottles/ctn,200 bottles/ctn,160 bottles/ctn,100 bottles/ctn,40 bottles/ctn
Storage and validity
Store at 2-8℃ and the validity is 12 months .
Manufactured by Huapai Bio-engineering Group Co ., Ltd.