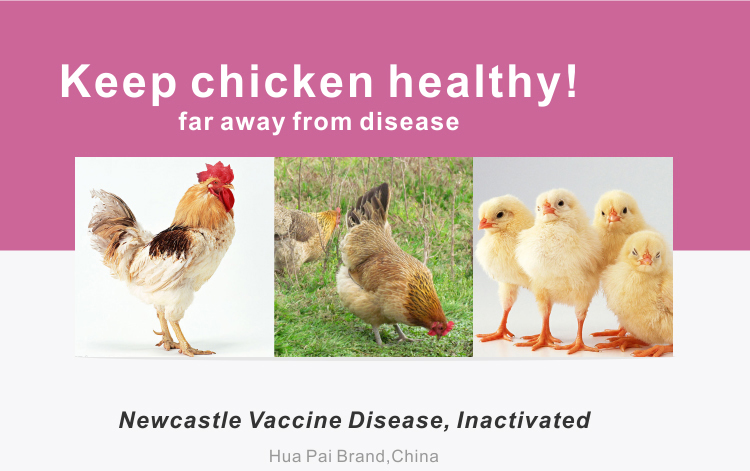 Product Name
Newcastle Disease Vaccine,Inactivated
Composition
Vaccine contains Newcastle Disease inactivated Virus Strain La Sota (CVCC AV1615)
Characteristics
Milk white emulsion
Indications
For prevention of Newcastle Disease, immune period is 4 months
Administration & Dosage
0.2ml for a chick below 14 days old, and do the Subcutaneous injection at neck, at the same time ,dilute the Strain La Sota Vaccine or type Ⅱ activated vaccine following the label on the bottle, then do the eye dropping or nasal drip.(or do an aerosol through the type Ⅱ activated vaccine ).Do once vaccination for the broiler is ok.
0.5ml for a chicken above 60 days old can make the duration of immunity persist 10 months.
14 -21 days before laying eggs,0.5ml for a hen ,which has been vaccinated the live vaccine, can protect the whole laying period.
Side Effect None

Precautions
1.Do not freeze !must not use the frozen vaccine
2.Keep the Vaccine at the room temperature and shake it completely before vaccination
3.Do the partly disinfection when take the vaccination
4.The used vaccine bottles,articles and the rest vaccine should do the harmless treatment
5.Forbidden to apply the product, 21 days before slaughter for the broiler and 42 days before slaughter for others.
Specification 250ml/bottle
Storage and Validity
Store at 2-8℃,validity 12 months
Manufactured by Huapai Bio-engineering Group Co., Ltd.
Only applied under the guidance of veterinarian