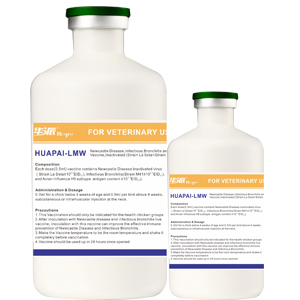 Product Name
Newcastle Disease,Infectious Bronchitisand Avian Influenza (H9 subtype)Vaccine,
Inactivated(Strain La Sota+Strain M41+Strain WD)
Composition
Each dose(0.5ml) vaccine contains Newcastle Disease inactivated virus(Strain La Sota≥108.3EID50), Infectious Bronchitis(Strain M41≥106.3EID50), and Avian Influenza H9 subtype antigen content ≥107.3EID50).

Characteristic white emulsion
Indications
For prevention of Newcastle Disease, Infectious Bronchitis and Avian Influenza(H9 subtype), immunity will be produced 14 to 21 days after vaccination, duration of immunity for chicks and adult chicken is 3 and 6 months.
Administration & Dosage
0.3ml for a chick below 4 weeks of age and 0.5ml per bird above 4 weeks , Subcutaneous or intramuscular injection at the neck
Side Effects None
Precautions
1.This Vaccination should only be indicated for the health chicken groups
2.After inoculation with Newcastle disease and infectious bronchitis live vaccine, inoculation with this vaccine can improve the effective immune prevention of Newcastle Disease and Infectious Bronchitis
3.Make the Vaccine temperature to be the room temperature and shake it completely before vaccination
4.Vaccine should be used up in 24 hours once opened
Specification
250ml/bottle
Storage and Validity
Store at 2-8℃,validity 18 months
Manufacturered by Huapai Bio-engineering Group Co., Ltd.
Only applied under the guidance of veterinarian